LIMOUSINE BERLIN SPECIALS
FOR THE CERTAIN EXTRA
WEDDING CAR BERLIN / FLOWER DECO
You can book our wedding vehicles as a wedding car. We can also offer you flower decoration, which we can arrange in consultation with our florist with fresh cut flowers for you. On the day of the trip, we will drive up to the pick-up location with the already decorated vehicle. Take a look at the photos of flower arrangements already made.
Price Bouquet: 130,00 € incl. 19% VAT.
Price flower bouquet + decoration on the doors: 150,00 € incl. 19% VAT.
On request, we can offer you chilled champagne with glasses while driving.
Moët & amp; Chandon or Veuve Clicquot each 0,75L each 59,90 € </ strong> incl. 19% VAT.
Heidsieck 0,75L Red Top or Blue Top each 39,90 € incl. 19% VAT.
Please let us know at the latest 2 days in advance which champagne we are allowed to serve you.
You are wedding planner? Contact us for a cooperation. SECURITY / PERSONAL PROTECTION
---
You are entitled to protection of your privacy. We do our part to protect your claim. Trust the professionals who provide your protection with absolute reliability and operational strength. For more than 20 years.
We work together with a competent and professional security service provider. Together with the Kuhr Security GmbH (www.kuhr-security.de), we ensure a representative and safe journey.
Whether transfer trips within Germany or Europe, private appointments, shopping tours or events, your safety is qualified and vigilant, while friendly and absolutely professionally protected and guaranteed at all times.
Further information is available from us personally.
MERCEDES-MAYBACH S-CLASS
The Mercedes Maybach S-Class. Maybach. A myth. A legend. With us you can also enjoy this experience.
The highlights at a glance:
Ambient lighting with different dimming zones and colors
Executive seats with a backrest tilt of 19-43.5 degrees
First class rear with business center console
Folding tables in the rear
Panoramic sunroof
TFT display with 31,2cm diagonal
Touchpad for infotainment, navigation and communication
PREMIUM VEHICLES IN ZURICH (SWITZERLAND)
---
With our partner "Executive Driver Solution Ltd." you can fall back on the best limousine service in Zurich (Switzerland).
The fleet includes Mercedes Benz S-Class, Mercedes Benz V-Class, Mercedes Benz Sprinter (for 17 Pax) and BMW X5 M.
The range of services at a glance:
Regular business transfers and roadshows
airport transfers
Concierge services
Transfer of vehicles
Bringing important documents or valuables
Why Customers Choose Executive Driver Solution Ltd.:
Her chauffeur has completed the police training and brings 10 years of experience at the highest driving level
Discretion, reliability and loyalty are a matter of course for us
With a woman as a driver you are in good hands
We speak German, English, French and Italian
Exclusive vehicles in long version, with all-wheel drive and WiFi
Because you feel comfortable with us
Please contact us for conditions in Zurich. We forward your request directly to our partner.
You can contact our partner directly: Executive Driver Solution Ltd.
per Telefon +41 79 818 60 11  or E-Mail: contact@limo-eds.ch
with the keyword "on the recommendation of myviplimo.de" for a partner price.
VW T1 BUS
---
Together with our partner we offer them for events, weddings, sightseeing, private tours or similar an original vintage VW Bus in its finest execution.
The legendary T1 Samba Deluxe, built in 1965 in mint green & amp; White.
This extremely rare model captivates with its excellent, perfectly restored original condition. The bus is suitable for his
typical two-tone paint a masterful interior design with comfortable leather seats. In addition to the large folding roof and the 21 windows, the "Safarifenster", which can be turned out to the front, are another special feature. And of course the cult sound of the boxer engine. A 100% "vintage" driving experience for up to 7 people.
The T1 Samba now has legend status. He magically draws all eyes from young to old. Become an attraction to yourself.
We are happy to forward your inquiries directly to our partner in Berlin or directly contact him directly with the keyword "myviplimo":
www.t1-berlin.de | info@t1-berlin.de
EVENTSHUTTLE / SHUTTLE SERVICE BERLIN
---
Our limousine fleet is also available for events of all kinds. In cooperation with other travel service providers, we can provide an extensive fleet of vehicles, ranging from limousines to minivans to buses (16 to 74 seats). Please contact us in time so that we can plan, organize and implement a driving service together.
Overview of available vehicles:
Mercedes Benz S-Class (First Class, 2 + 1 persons)
Mercedes Benz V-Klasse (Minivan, bis 7 persons)
Mercedes Benz Business Van (Sprinter, 8 bis 16 persons)
Audi A8 (First Class, 2+1 persons)
VW T5 Bus (Minivan, bis 6 persons)
Omnibusse VIP (16 bis 57+1 persons)
Omnibus Doppeldecker VIP (74 persons)
other vehicles on request
Further details on the equipment of our limousines and our exclusive service packages you will find here.
DRINKS 
&

 FINGERFOOD
---
We offer you cooled drinks and snacks in the form of "finger food" during our trips.
A list of available articles:
Non-Alcoholic Soft Drinks (Coca Cola, Fanta, Sprite, Mezzo Mix, Rare, Still Water)
Alcoholic beverages (champagne, prosecco, sparkling wine)
Fingerfood (sandwiches, canapés, pies Vol-au-vent by Lindner Feinkost)
SURPRISE TRANSFER
---
Surprise someone with a chauffeur ride. They organize the surprise, we take the ride there. Our chauffeur will not give the guest any information. We also like to present messages in a sealed envelope. Everything stays top secret!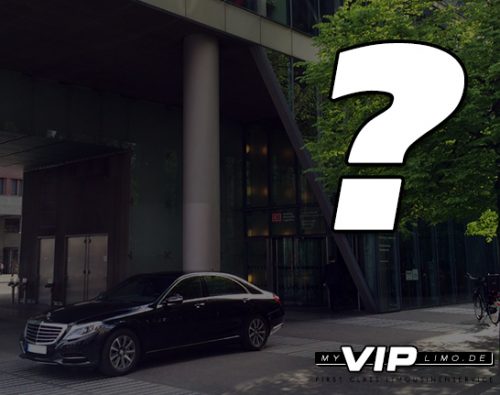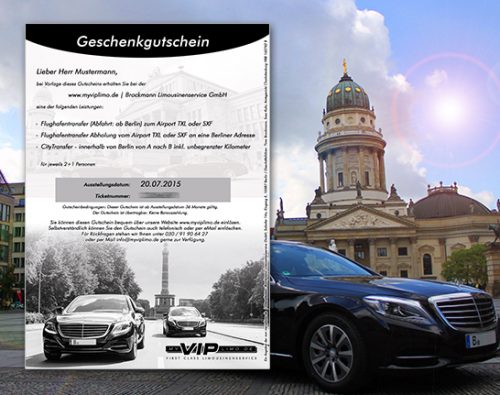 GIFT VOUCHER
---
Make someone happy with a chauffeur ride.
With this ticket you will receive a CityTransfer </ strong> or AirportTransfer for up to 3 persons, with early reservation and free capacity. From the date of purchase, the ticket is valid for 36 months.
TOPLESSBUS
---
For up to 28 people, we offer a unique Cabriofeeling in our topless bus. Whether city tours, company events, weddings or similar. Do not use the topless bus just for the special occasion. The topless bus convinces with its uniqueness.
28 seats with leather interior
Lockable panoramic roof
Two refrigerators with or without contents
Music system with sound system
Includes cordless microphone
Including small storage space
Rent the Cabriobus for your journey through Berlin and Brandenburg.
Get in touch and indicate that you became aware of "on myviplimo's recommendation":
Toplessbus.Berlin | marketing@toplessbus.de | www.topless.berlin | Telefon: 030-68979125